I've been given an award!! A blog award! Becky from
On top of the world (or at least really far north)
has awarded me THIS: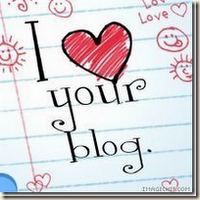 The first time I ever heard of a blog award was when I read this post
by Sue at
navel gazing at it's finest.
I'm not sure if it was a result of the influence of that post on my infant blogger mind, but I feel almost exactly the same way as she does about them. She also happens to be the one that introduced me and Becky to each other. Well, sort of anyway. She's the one who started up
Mormon Mommy Blogs
, which is how we found each other. And she's super funny. You should read the "this post" link about the blog awards, and then possibly find yourself reading through a bunch of her other stuff.
Ooops, I keep going on about Sue. What I meant to say is that it's an honor to receive this award, mostly because it was given to me by someone I didn't even know a month ago. And not so much because each person who receives it gives it to as many people as they want. I've decided to share the love with a few blogs
I
love. I actually love LOADS of blogs, but I'm going to choose some of the first that come to mind as blogs that I'm always excited when they come up on my Google Reader:
H.I.P.
(hope is power)- Sarah is one of the people that I became harder and faster friends with than anyone ever. That's 'cause she's awesome. You can see it in her writing. And that she's super intelligent and funny.
Into the Woods- I'm not linkin' because it's a private blog, which is a shame because it's SO awesome. The Woods are just some of my favorite people ever. They're kind, funny, beautiful/handsome (kids too) and just the kind of people you want to have as friends. And their blog is a great reflection of them.
Keepin' Up with the Joneses
and
Draper Kids
- My sisters Anne and Su, and their great blogs about their wonderful families/amazing, smart SUPER cute kids. (And they're the ones who got me into blogging.)
And we'll throw in a couple of people I only just met:
Alison Wonderland
-Who is an aspiring writer with real talent (
I
think). And she seems nice, too. And I really love her blog layout. Sorry if that last one's a shallow reason to give an award, but there it is.
none of your beezwax
- Who is just hilarious, and is capable of writing posts even longer than mine that are actually funny all the way through.
Let's leave it at that. Thanks again, Becky! And for those of you whom I've awarded, I promise you will not have bad luck or anything if you don't pass the award on or display the picture prominently on your blog, but you can. Just so you know. (I'm going to put mine at the very bottom of my blog, just so people won't think I'm bragging or anything).